Caregiver Support Groups in India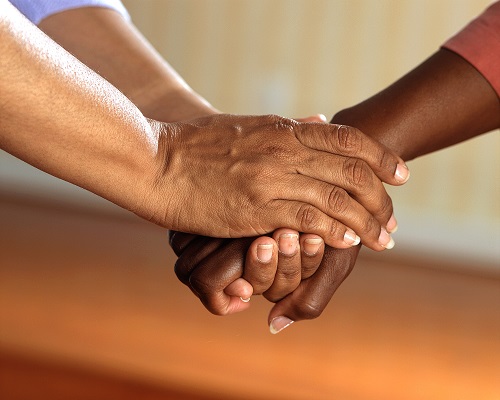 A cancer diagnosis not only affects the patient but also family members and friends. Many caregivers feel that they are not appropriately prepared to help their loved ones as they take up multiple roles and make important medical and financial decisions. That is why it is important to remember that caregivers have professional help at hand when they feel stressed or frustrated. A caregiver support group is one such way to get the right information and support.
Caregiver support groups offer a safe place to learn more about caregiving, give and get emotional support, as well as exchange experiences to form connections whilst helping each other in the journey. These groups are structured in different ways including online meetings, telephonic conferences, or in-person meetings.
Physical or In-person Support Groups
Physical support groups hold regular meetings at a designated place such as community centers, local halls, or council meeting rooms. Such meetings may also involve guest speakers or participants to share their experiences along with the refreshments and opportunity to socialize. However, as social distancing norms are in place, physical support groups are also turning towards online meetings.
A few of the physical support groups in India
1. Caregiver Saathi: With a goal to acknowledge and support caregivers of patients with chronic conditions or terminal illnesses, Caregiver Saathi offers programs that help caregivers know themselves and their role better, understand the challenges and equip them with the necessary skills to help them cope with difficult situations. They organize workshops and podcasts, conduct coaching and counseling, and offer support groups.
2. Adveka Foundation: Adveka foundation works with the goal of ensuring the mental and physical well-being of the caregivers. They also offer support groups and professional counseling sessions that discuss critical topics for caregivers such as self-care, managing unhealthy negative emotions, assertiveness, resolving interpersonal conflicts, and many more.
3. Institute for Psychological Health (IPH): IPH, Pune organizes various support groups regularly and one of them is for cancer patients and their caregivers. You may contact them for further details.
Online Support Groups
Online support groups can be helpful when it is not possible for you to meet in person due to distance constraints, work commitments, accessibility to transportation, or family schedule. These groups also work well when your loved one is dealing with a rare medical condition wherein the other caregivers or peers are staying in far-off or different areas. However, they also come with some limitations. It can become difficult to understand feelings without the facial expressions or body language of other members. The lack of personal contact can also limit the communication and ways to express emotions or warmth which is vital during support group meetings on such online forums.
A few of the online support groups in India
Listening Circle
Caregiver stress
Caring for caregiver
Caregiver Saathi
Cancer Caregiver Support group
Consider Counseling
Caregiving can be rewarding as well as stressful. A shift in roles and emotions leading to caregiver stress is quite normal. However, counseling can prove beneficial and help people overcome 'caregiver burnout', express emotions, and also get practical benefits from the advice of the counselor. Being able to share their experiences and confide without being judged often helps caregivers in dealing with isolation, powerlessness, or being overwhelmed. Therefore, talking to a professional or going to a therapist can provide the support caregivers need.
References: